Detailed Independent Cost Estimates for Infrastructure and Power Projects
AmeriCost develops detailed independent cost estimates for infrastructure and power projects throughout North America and globally. Our detail-oriented cost estimating methodology enables our clients to analyze project costs and risks with confidence. Our cost estimates' itemized breakdowns of labor, equipment and material costs give our clients valuable risk-reducing detail, not found in Unit-Price estimates.
Itemized Labor, Equipment, Material Breakdown
Our cost estimates are presented in a thorough breakdown of labor, equipment, material, direct and indirect costs, for maximum project cost clarity and precision. Our labor, equipment and material based estimates do not carry the risky cost ambiguity found in Unit-Price cost estimates.
AmeriCost maintains an extensive, updated library of infrastructure and power cost data that is reference on each cost estimate developed, including:
Site Preparation and Earthwork
Deep Foundation work
Waterpower and Dams
Structural Concrete Assemblies
Retaining Walls
Bridges and Overpasses
Tunnel Excavation
Shoring of Excavation
Mechanical and Electrical
Appurtenances
Road and Railway Work
Electrical Transmission Lines
Indirect Overhead and Supervision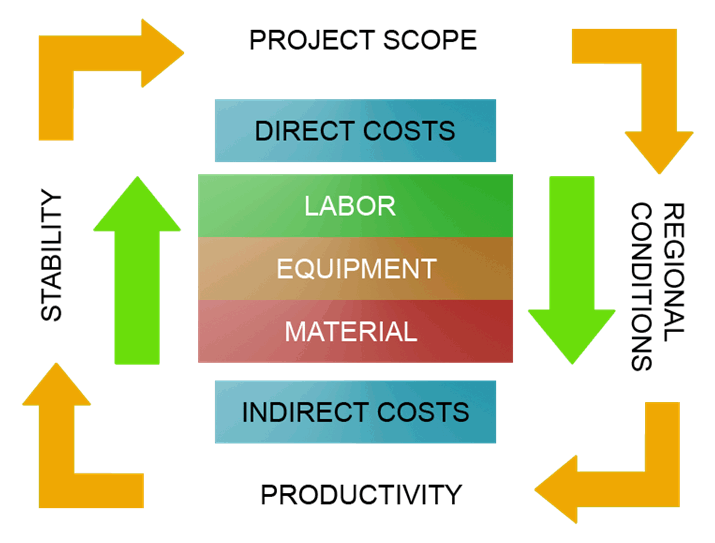 Experts in Complex Construction Means and Methods, Logistics and Pricing Data
Throughout the cost estimating process, our estimators undergo a thorough process of project analysis through evaluating the scope of work, productivities and special project conditions (cold weather, remote location, regional conditions, stability, etc.). Our estimators additionally analyze the labor, man-hours, equipment and material project requirements, developing:
Construction means and methods
Construction techniques
Detailed Quantity Surveys
Production schedules
Project bid review
Recommendations and cost analysis
Ready at Any Project Stage
AmeriCost's cost estimators are ready to perform at any project stage – from conceptual design to completion – with appropriate historical pricing data for infrastructure projects around the world, in any currency.
Even with conceptual project drawings and information subject to future changes, our estimators develop detailed labor, equipment and material baseline cost estimates, that progress as design and scope changes occur.