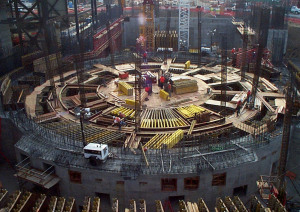 Nuclear power is responsible for about 11% of the world's electricity, with 450 reactors (as of 2014) providing 424GW of power (World Nuclear Association). 
AmeriCost is the leading cost estimator for nuclear power construction projects, developing detailed independent cost estimates for the construction of global nuclear power plant facilities and structures.
Our nuclear power estimates incorporate a thorough analysis of project scope of work, labor, equipment, material, productivities and distinctive project characteristics.
The following is a selection from AmeriCost's nuclear power list of projects. For additional information regarding our project portfolio, please contact us.
Dominion North Anna Nuclear Power Plant: Unit 3 (1600 Megawatt)
Design Type: GE-Hitachi ESBWR

Location: Virginia, USA

Description: The GE-Hitachi Economic Simplified Boiling Water Reactor (ESBWR) is a 1520 MWe Generation III+ boiling water reactor. 

Scope: Structure construction and civil works
US Department of Energy National Ignition Facility (NIF)
Design Type: GE-Hitachi ESBWR
Location: Livermore, CA, USA
Description: Large laser-based inertial confinement fusion (ICF) research device, and the largest and most energetic laser facility built.
Scope: Structure construction and civil works
AP 1000 Nuclear Power Plant (1000 Megawatt)
Design Type: Westinghouse AP 1000

Location: Wales, UK

Description: Westinghouse AP1000 pressurized water reactor (PWR) 

Scope: Concrete Structures construction for Units 1 and 2, and civil works
STP Nuclear Power Plant (2700 Megawatt)
Design Type: Toshiba Advanced Boiling Water Reactor (ABWR)

Location: Bay City, Texas, USA

Description: ABWR nuclear power plant design. Toshiba America Nuclear Energy Corporation, was selected as the contractor Units 3 and 4.

Scope: Cost estimates for structure construction and civil works
Bellefonte Nuclear Power Plant
Design Type: PWR

Location: Hollywood, AL, USA

Description: Cost Estimate to continue the completion of Unit 1

Scope: Cost estimates for structure construction and civil works
Indian Point Nuclear Power Project
Design Type: Westinghouse Pressurized Water Reactors

Location: Buchanan, New York, USA

Scope: Intake Structure and civil works
US Department of Energy, Site 300 Project
Location: Livermore, CA, USA

Description: Site 300 is an experimental test site operated by the Lawrence Livermore National Security, LLC, for the Department of Energy's National Nuclear Security Administration. 

Scope: Cost Estimate for testing structure and civil works
| | |
| --- | --- |
| US Department of Energy Site 300: Concrete Bunker | Livermore, CA USA |
| Indian Point Nuclear Power Project: Intake Structure | NY, USA |
| US Department of Energy National Ignition Facility (NIF) | Livermore, CA USA |
| AP 1000 Nuclear Power Plant (1000 Megawatt): Concrete Structures for Unit 1 & 2 | Wales, UK |
| STP Nuclear Power Plant (2700 Megawatt) | Bay City, Texas USA |
| Dominion North Anna Nuclear Power Plant: Unit 3 (1600 Megawatt) | Virginia, USA |